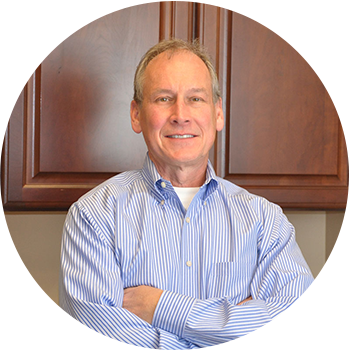 "My goal is to exceed the expectations of those who choose us for their care."
– Dr. Kampas
Education and Experience
A native of Pittsburgh, Dr. Kampas balanced academic pursuits with a love for the outdoors, and with church and community involvement. After earning his Bachelor of Science Degree in Microbiology at Michigan State University, he spent a few years doing research in a big pharma lab which included work in a viral containment lab. He then pursued dentistry and an orthodontics specialty at the prestigious University of Michigan in Ann Arbor. The University of Michigan is widely regarded as the finest institution for dental and orthodontic education in the world. He served as his dental class president.
With a practice history that includes thousands complex orthodontic cases, Dr. Kampas' philosophy revolves around a total dedication to individualized patient attention and care. His expertise includes all types of braces, including Invisalign, clear braces, digital orthodontics, surgical orthodontics, and dentofacial orthopedics.
Dr. Kampas is committed to the pursuit of continued proficiency and excellence in orthodontics. In addition to traditional braces, he has been utilizing the Invisalign® system for close to twenty five years, helping patients achieve the beautiful smiles they deserve without metal braces or wires. He attends multiple training sessions and continuing education lectures every year and is active in the American Association of Orthodontists, American Cleft Palate-Craniofacial Association, Pennsylvania Orthodontic Association, and the Western Pennsylvania Society of Orthodontists.
He regularly hosts students in his offices for training or shadow days. Any student interested in orthodontics or dentistry is welcome to contact the office to arrange a visit!
In the Community
A firm believer in community involvement, Dr. Kampas takes the time to reach out to the community in the form of local festivals and supporting local sports teams, and is committed to dental health education in the local schools. His dental health programs in the Mars, Seneca Valley, Pine-Richland, Slippery Rock, and the Grove City school districts have reached more than 60,000+ elementary school children. He supports charitable causes such as the Susan G. Komen Foundation, Alex's Lemonade Stand for Childhood Cancer, Make-a-Wish, ALS Foundation, and the Cystic Fibrosis Foundation (CFF). The CFF hold a particular spot in his heart because his oldest daughter lives with CF.
Dr. Kampas is also actively involved in his church community, Saint Kilian Parish, where he serves as a Lector and Eucharistic minister. He is a founding member of a non-denominational men's Christian fellowship group. He believes in a life grounded in Christ's teachings.
Family Life
Dr. Kampas lives a few minutes from the Adams Township office with his wife, three daughters, two dogs two grand cats and an occasional critter that finds its way into the attic. When not treating patients, he can be found camping, snow skiing, or spending time with his family or putzing with never ending home projects. He is passionate about all aspects of his life and shares that passion in his relationships with those he meets.